Pardot is a platform that helps marketing managers to lead, measure, and optimize their digital marketing campaigns. It can be used for lead generation, website traffic acquisition, branding, demand generation for services or products.
It is an all-in-one platform that can help you automate your marketing campaigns. It has features like landing pages, email marketing, call tracking, and more to help you grow your business online.
It is crucial to maintain your Pardot account to get the most out of it.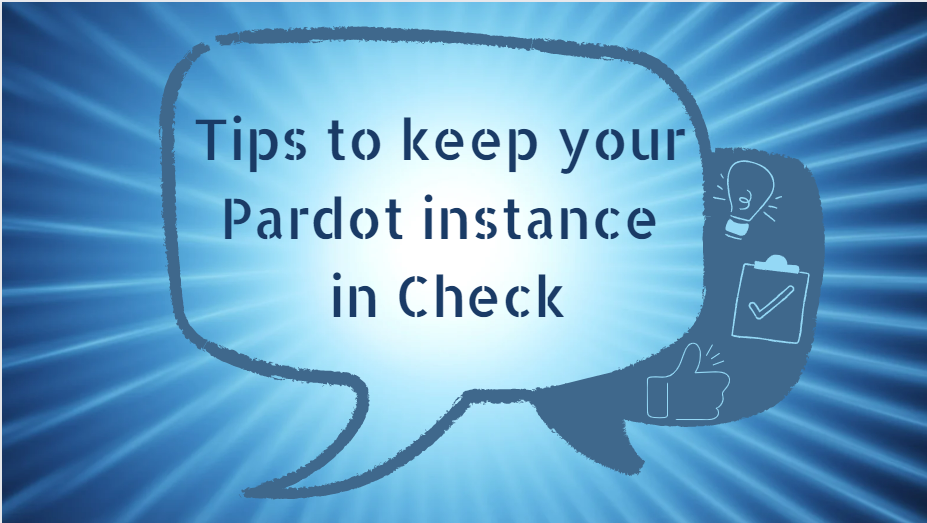 1. Ensure the security of the
Pardot instance
As an organization, strengthening your data security is necessary. To do so, you can set up your Pardot instance in the right way with proper security measures to avoid any unwanted activity.
You should make sure to protect your user accounts by using two-factor authentication for all the users in your organization who has access to the system.
Data backup is necessary for all kinds of businesses. Pardot is an online marketing automation system that relies on data backup.
Pardot is a platform for managing marketing campaigns and automating business processes. Data backup is critical because it ensures nothing interrupts the productivity of the company's resources or downtime due to data loss.
Database management is a process that organizations perform to ensure that their databases operate at optimal capacity. It also helps prevent data from becoming corrupt and ensures the integrity of the data. Also, ensure that your database is not fully loaded.
Pardot offers two ways to clean your instance: manually or automatically. With either method, the goal should be to have a healthy instance with as few errors as possible so your instance can operate at its optimal capacity. It provides several different tools that help you to clean your instance and keep it healthy.
For Premier customers and Signature Success Plan customers, Pardot offers a Database Hygiene Assessment session. After conducting a review of your account, an expert will pinpoint any issues with your prospect database and propose solutions.
4. Manage Users
and Preferences
Pardot has default set roles which means you can restrict user access & visibility to Pardot features and data. You can also get the default user role and edit it to create your custom user role.
It ensures data security and allows you to grant permissions to users while collaborating with non-marketer users such as the support team, external design team.
Cleaning inactive users in the Pardot instance is an essential step for improving the performance. It will help achieve an optimum user experience.
There are many reasons why to clean inactive users from your Pardot instance. For example, you might want to remove all inactive members because teams change, and people move around within companies. It's always better to remove inactive users to use Pardot effectively.
An asset audit checks for any updates or changes in the Pardot instance that could have affected performance or health. For example, an asset audit will check for the availability of any new enhancements in the Pardot product, any upgrades in hardware/software version, etc. The goal is to ensure that your instance does not suffer from maintenance or health issues.
Reasons to perform Pardot account audits,
To avoid any technical errors.
To develop and optimize your Pardot automation for further lead generation and nurture opportunities.
To check your scoring and grading models are growing as your business develops and strategies advance.
To maintain a clean database.
To assess and improve lead management.
To set up the proper folder structure to easily access Campaign reports and implement scoring categories.
Need more help with enhancing your Pardot experience? Contact Us!
Get our latest blogs directly to your inbox.