LinkedIn Campaign Manager is a third-party integration tool for data enrichment & ad targeting. Marketers can capture and nurture new leads from LinkedIn and re-target individual buyers with relevant Digital Ads on LinkedIn. It is handy to use because LinkedIn Lead Gen Forms allows you to acquire quality leads using pre-filled forms with LinkedIn profile data. It presents new opportunities to grow your lead generation strategy.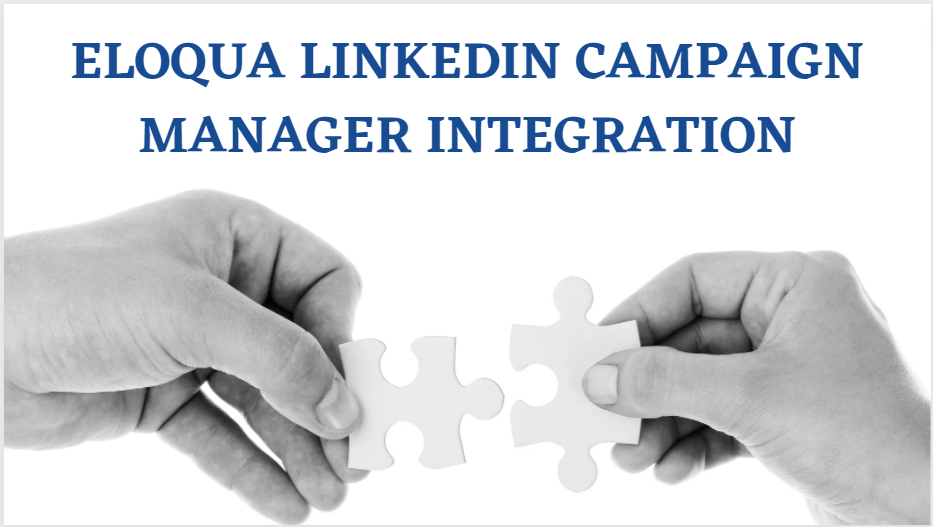 Steps to install
LinkedIn Campaign Manager
To use this app, you should complete the to-do list first:
If you have not already installed the app for your account, then you need to install the app from the cloud app library following these steps:
In the setting tab, Click "Apps" under the Platform extensions section.

2. On the My Apps page, click the link "Get more apps at the marketplace" at the top right corner. It will redirect you to the cloud app store.

3. Search for the LinkedIn Campaign Manager app in the app store. Click the Get App option and permit to install it in your account. 

4. After the installation, it will appear in My Apps->AppCloud Catalog

5. Add the LinkedIn account which you want to use for lead generation. This LinkedIn Account should have Admin Account Access (LinkedIn Campaign Manager Permission)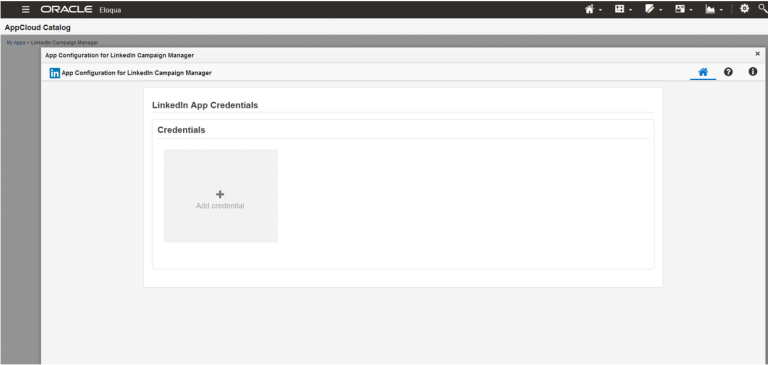 6. Now the LinkedIn Lead Gen Forms will appear in the Campaign section and the Program section.
Configuring the
Lead Gen Form in Campaign flow:
To add the LinkedIn app to your campaign, drag and drop the LinkedIn Campaign element into the workspace.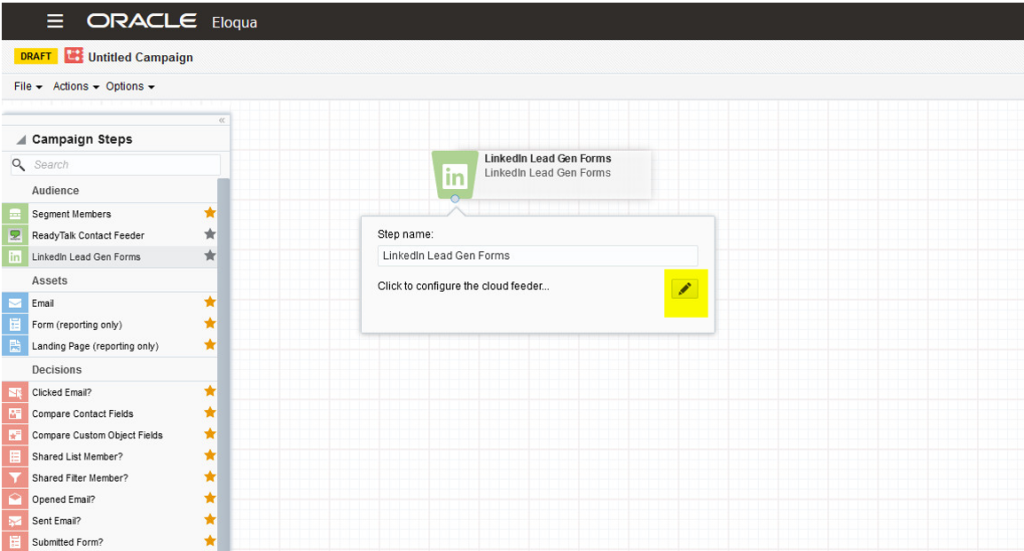 Double click the LinkedIn Campaign element and click the "pencil icon". It will take you to the form configuration page.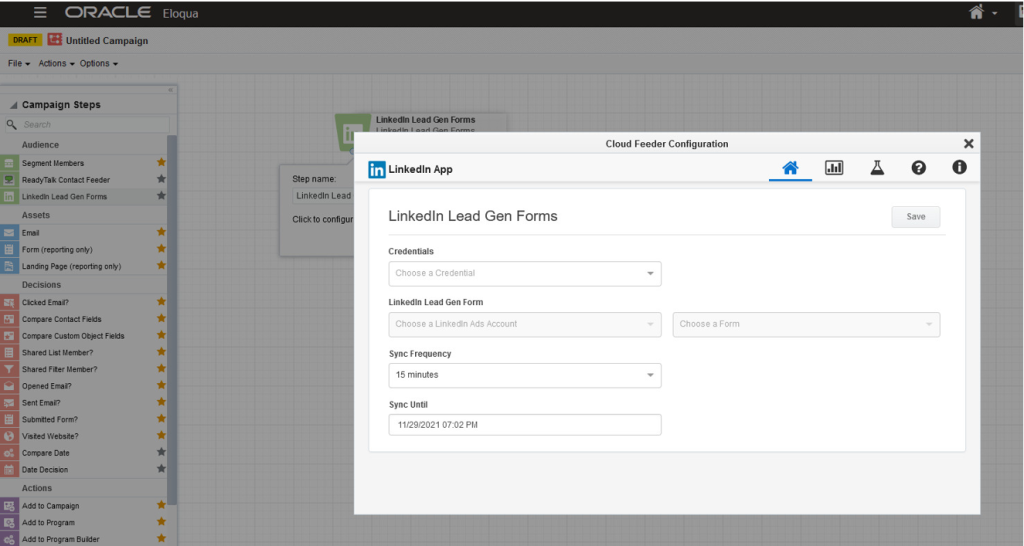 On the Lead Gen Forms page, you will see:

Credential: The LinkedIn user account added will be listed in the drop-down list. 
LinkedIn Lead Gen Form: The LinkedIn campaigns associated with the LinkedIn user will be displayed here.
Choose a form: The forms created in the LinkedIn Campaign will be displayed here.
Sync Frequency: The campaign scheduler allows you to set up the time to refresh the campaign to stay on top of it and bring new leads to the campaign flow. You can schedule your timings from 15 minutes to 1 day. For example, if you select 15 minutes, the campaign element will get refreshed every 15 minutes.
Sync Until: It allows you to enter the campaign end date. The campaign will stop syncing at the end of the entered date.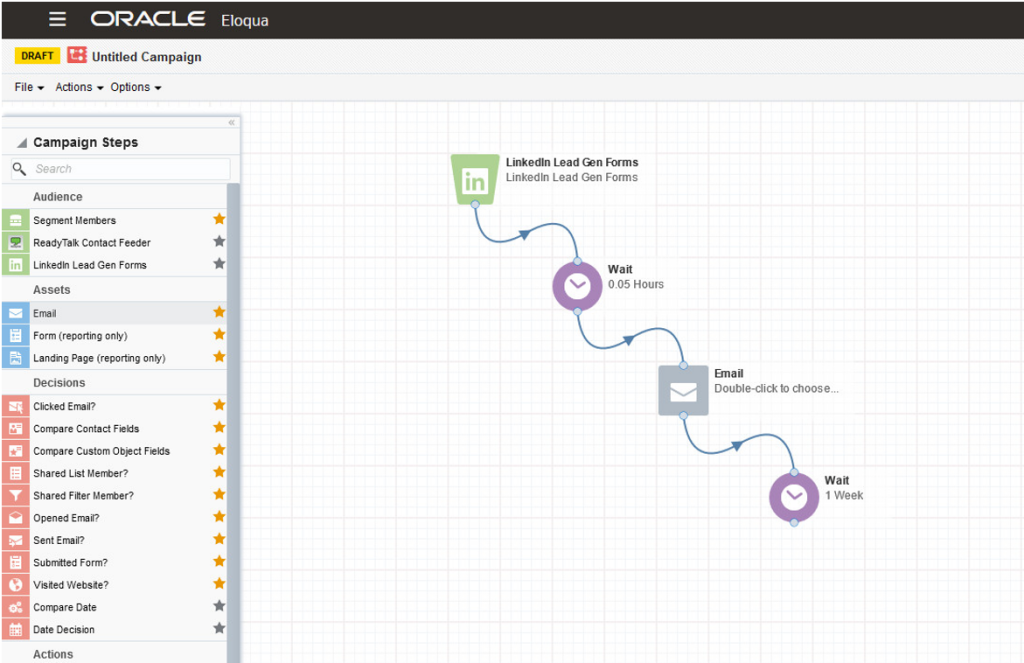 Eloqua LinkedIn Campaign Manager integration allows Eloqua to identify which potential leads are most likely to be turned into customers. It then uses LinkedIn as the platform to reach them.
It helps you make more informed decisions about your marketing efforts and be more efficient with your time and money. If you're looking to expand your lead generation strategy, this is a great way to do it.
Get our latest blogs directly to your inbox.