Everyone likes to be treated well. Whether you are a customer or business partner, you want to be treated the way you want to be treated. Pardot segmentation helps to target prospects in a better manner by dividing them into groups and providing relevant content to each prospects group. That will help you to develop your lead nurturing strategy more effectively.
Before proceeding further, we need to decide the best pardot segmentation method to segment the prospects. For example, we can segment the prospects using criteria like Company, Country, Industry, Language, etc.
Pardot segmentation
ways:
In Pardot, we can segment prospects in 4 different ways.
There are two types of lists under which we can segment the prospects, 
a) Static List
Consists of prospects that are built once.
Can edit manually to make changes.
Available as a CRM visible list.
b) Dynamic List
An automated rule-based list updates itself when there is a change in a prospect's data.
Can use this list as a recipient list or suppression list for list emails and engagement programs.
Cannot manually add/remove prospects from Dynamic lists.
Not available as CRM visible list.
Can add a dynamic list as public and display it under the email preference center. So, the prospects can drop out of the list, and only the prospects that meet the list's criteria will be visible on the email preference page.
Pardot Segmentation Rules helps to create a list of prospects and apply a segmentation action based on specific criteria. It will not run continuously like automation rules and matches the possibilities that meet the required criteria. The segmentation rule design is to pull a one-time list of prospects and perform the following actions:
Add prospects to the list,
Remove prospects from the list,
Add prospects to Salesforce Campaign,
Apply and remove tags.
Apply tags to prospects to identify whether they have completed specific actions, such as downloading content or clicking the links provided in emails. Moreover, it helps to sort, filter, and organize prospects and marketing assets. If we tag prospects, we can automatically segment them to create specific lists.
For example, we can create the tag based on a specific business unit, "Commercial" helps group files tagged under Commercial in Pardot.
First, go to Pardot Reports – Marketing Assets – Content and use the 'Tags' dropdown to see all tags created in Pardot. Next, click on a specific tag to see the assets associated with it.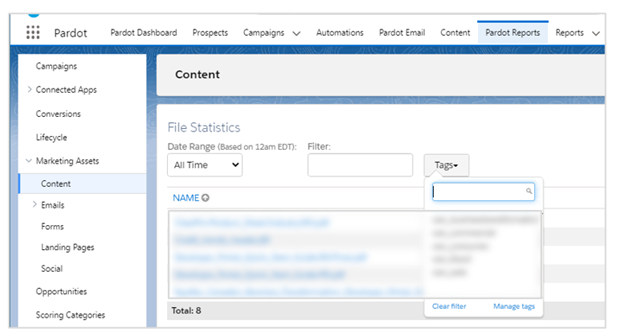 Scoring depends on what a prospect does, and grading depends on who a prospect is. Together, it helps us to determine when a lead is a good fit and sales-ready.
Scoring: 
When a visitor converts to a prospect, the prospect is given a score. Then prospect scores change over time as they interact with marketing assets such as Custom Redirect Click, Email Open, Event Registered, etc.
Grading: 
Grade the prospects based on profiles. Profiles use criteria (Job Title, Job Level, Department, Company Size, Industry, etc.) to determine how good the prospect is for the company. The grades get better as the prospects match more criteria. Grades in Pardot range from A+ (best) to F (worst). All prospects are assigned a grade of D when they begin.

Pardot segmentation is an efficient way to segment prospects to give relevant content to each group, providing a better user experience overall.
Ready to take your prospect segmentation in Pardot to the next level?
Discover the full potential of your marketing efforts by implementing these strategic Pardot segmentation techniques.
Marmato Digital can help you with that. Reach out to our Pardot experts today, and let's embark on a journey to optimize your prospect engagement, drive conversions, and maximize your ROI. Contact us now to unlock the true power of Pardot segmentation and propel your marketing to new heights!
Get our latest blogs directly to your inbox.