In a recent announcement, Salesforce announced that they are changing the names of Pardot and about a dozen other products. This is a big change for the company, and it might have huge implications on the company's marketing strategy. They are going through this major rebranding process because of the rise of marketing automation.
2022 Salesforce
Products Rebranding
The global CRM leader announced that they will change their legal name from salesforce.com, inc. to Salesforce, Inc. Effective April 4th, 2022.
Salesforce announcement: Salesforce Changes Legal Name to Salesforce, Inc.
They have renamed their several products, so it's important to use the new names in the future.
Pardot –> Marketing Cloud Account Engagement
Marketing Cloud Email Studio (aka ExactTarget) –> Marketing Cloud Engagement
CMS –> Digital Experiences
CDP –> Marketing Cloud Customer Data Platform
Interaction Studio –> Marketing Cloud Personalization
myTrailhead –> Salesforce Sales Enablement
Advertising Studio –> Marketing Cloud Advertising
Datorama –> Marketing Cloud Intelligence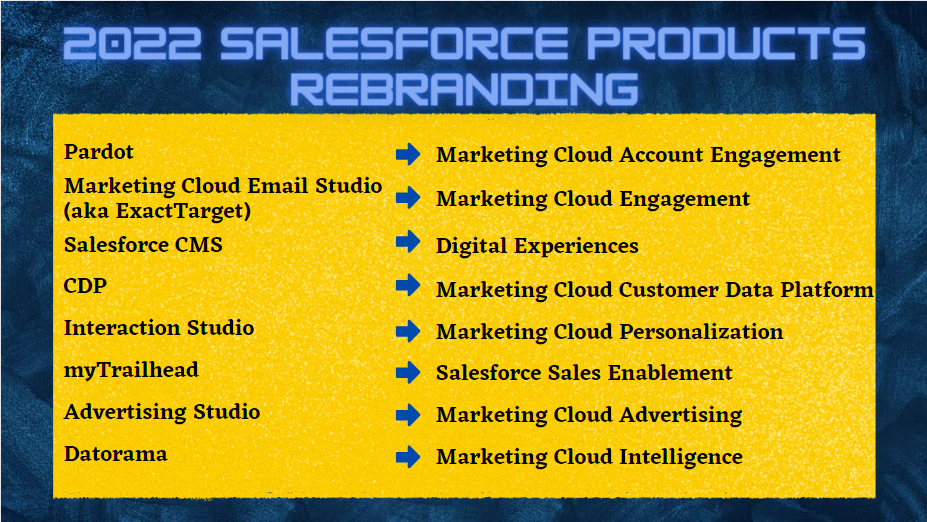 Only the names of the products have been changed. The following are not changed.
Functionality of the products.
Features of the products.
The names like Email Studio, Journey Builder, and Mobile Studio.
Pricing of the product packages.
SKU (Stock Keeping Unit)
Reason for Pardot's Name Change
The improvement in name from Pardot to Marketing Cloud Account Engagement is a part of the initiative called "MC Easy", which is one of the many parts of the company-wide project called "Salesforce Easy". Its goal is to make the lives of sales teams easier.
Salesforce aims to make the use of Marketing Cloud and its product suite more accessible for partners, customers, and employees. This will ensure that everyone has a shared understanding of how it is used.
Reasons for MC Easy initiative
Marketing Cloud has retained the original names of its key components: Studios, Builders, and Add-ons after being acquired by Salesforce. It's understandable that the scope of Marketing Cloud can be challenging to newcomers, but they've made their terminology more consistent to make up for it.
The updates will make it simpler to communicate about the products across Salesforce's various Clouds, which is usually a benefit for teams scattered around different areas of an organization.
Salesforce wants Marketing Cloud to ensure that each products' name should associate with what it delivers. Marketing Cloud to provide the feature to speak the same language as their customers.
To keep on track with industry trends and better alignment with analyst reports.
Get our latest blogs directly to your inbox.