Are you looking for the best solution to manage your marketing campaigns? Are you confused between Marketing Cloud Account Engagement (MCAE) and Marketing Cloud Engagement (MCE)? The two solutions have advantages and disadvantages, so it is necessary to understand their differences before making any decision.
Here, we will discuss the differences between MCAE and MCE and help you decide the best solution for your business. We will also discuss their use cases so you can make an informed decision.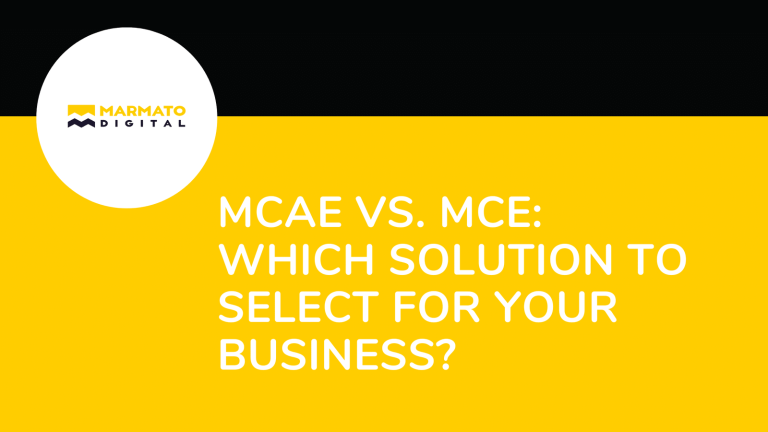 MCAE is usually a preferred choice of B2B companies due to its elaborate purchase cycle, which involves multiple decision-makers on the client side. Since the sales cycle associated with Pardot tends to be relatively long, businesses need to consider this factor when making their choice.
MCAE highly focuses on emails and social media. It is connected to Sales Cloud CRM, enabling you to monitor insights, campaigns, chances, and accounts. Additionally, MCAE allows you to customize the team size to your preference while offering a great deal at an affordable price compared to MCE.
B2C establishments are pushing for the use of MCE. It is especially true for industries like retail, e-commerce, and restaurants that rely on direct-to-consumer or self-service business models. A lot of the time, you want to use multiple marketing channels through which the marketing projects operate, and so is the need for emails, social, SMS, and display advertising. It allows the marketing project to reach a wider audience, maximizing its potential impact.
Apart from being integrated with CRM, MCEs are functioning as stand-alone services. Operating a platform of this magnitude can require a bigger team. Its utilization of numerous marketing channels necessitates expertise in each. However, MCE comes at an increased cost than MCAE.
MCAE vs MCE
Feature comparison
MCAE and MCE both have their specific features and capabilities. It is up to you to select the one that best suits your business needs.
Email marketing, Marketing Automation, Forms & Landing Pages, Web tracking, and Basic Social are common to MCAE and MCE.
MCAE's key focus is on the top of the funnel to identify those who will buy and ensure that prospects reach the sales team. It also can build relationships with leads at the beginning of their customer journey. MCAE offer several ways of scoring prospects and passing on the qualified leads to the sales team, thereby boosting their chances of closing deals. You need to set a certain qualification threshold, and the prospects that meet this threshold will move to the sales team for further evaluation.
Marketers using MCE are no longer focusing solely on the marketing funnel while planning campaigns. Instead, they look at the customer journey as a whole. To execute this across multiple channels, Journey Builder is a great tool that provides the needed support.
MCE supports mobile messaging, which is extremely useful. Even MCAE supports it, but it is not in native integration, and you would use a third party. Advertising Studio and Multichannel Communication are two available options for communication. At some points there is a little bit more flexibility when it comes to Data Segregation.
MCAE vs MCE
Platform selection
When it comes to platform selection, there are many factors to consider. The key considerations in deciding between MCAE and MCE include how your typical sales process works. There are many factors you need to consider for platform selection. However, below are the most critical points that should be your focus.
Length of your sales cycle
Your sales cycle may be either longer or shorter. In longer sales cycles, there is much more interaction between the sales team and the customer. But in a shorter sales cycle, customers would identify what they want and purchase it. The longer sales cycle is more MCAE, and the shorter sales cycle is more MCE.
Number of decision makers influencing purchase
Decide on how many decision-makers are involved in the purchase process. Is there a team of people analyzing and testing the product before a final decision is made, or does it just come down to one person making the decision?
Marketing channels you rely on
When it comes to marketing, businesses often rely on different channels. This could include email, social media, lead nurturing, as well as more direct forms of communication like SMS and targeted ad campaigns.
How to decide between MCAE and MCE?
Here are a few basic guidelines to decide on the appropriate marketing solution for your business. Ask yourself the following questions and make the decision based on your business needs.
Does your organization have 'considered purchases' with long sales cycles and multiple decision-makers?
If so, MCAE can be employed to increase the rate of success.
Do you manage your sales process with Leads and Salesforce Opportunities?
If yes, then MCAE is the appropriate tool for that. It's a reliable and efficient way to streamline the sales cycle.
Is your organization making 'transactional purchases' through different marketing channels and e-commerce?
If so, then MCE could be a great solution to help you out.
Are your organization's marketing activities focused on generating Leads and aligning with Sales?
If so, Utilizing MCAE would be an effective way to reach those objectives.
Is your organization's marketing focused on building long-term relationships with Prospects and Customers?
If so, MCE is the perfect tool for you.
The following are the scenarios for you to understand the use cases of MCAE and MCE.
Scenario 1: Organization that supports both B2B and B2C customers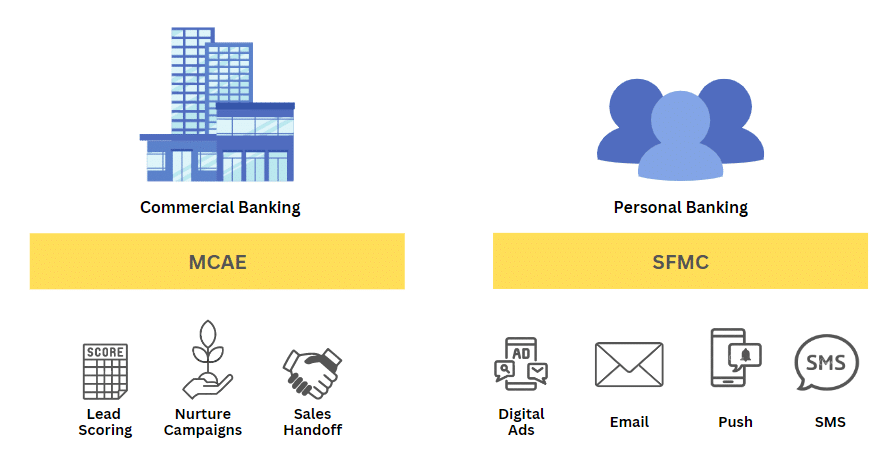 Organizations like financial institutions with many business lines work with both B2B and B2C customers. Commercial banking is a B2B pipeline where they are looking for business leaders in large organizations who may need to do all their banking through a banking organization.
If you are a client considering a bank, you would check their materials online and ensure their rates and services matches your needs. The bank's internal marketing team will score your activities, send you to nurture emails, and once you reach a certain threshold, they move you to the sales team. The sales team will then reach out to you to close the deal.
Personal banking organizations are a B2C pipeline. They create awareness about their organization by utilizing digital ads, marketing emails, push notifications, and SMS to keep customers up-to-date on new offers and account details.
Scenario 2: B2B organization with multichannel messaging needs


SaaS providers that deal with niche target audiences need to be extra cautious while acquiring and qualifying new customers. They rely on lead scoring, and this is where MCAE can be helpful. It can help identify the right customers, thereby increasing their chances of success. Once they become the lead, we can use MCE to optimize the marketing funnel. Furthermore, with a connected CRM system to our marketing cloud, we have the power of one-to-one communication for conversion and beyond.
Choosing the right marketing automation platform for your business is critical to success. With the right choice, you can leverage the power of Marketing Cloud Account Engagement (MCAE) and Marketing Cloud Engagement (MCE) to help you reach your goals. When choosing a platform, it is necessary to consider factors such as price, scalability, integrations with other systems, and ease of use. By considering all these factors, you can ensure that you select the best marketing automation platform for your business needs.
Get our latest blogs directly to your inbox.