Marketing Cloud Account Engagement (MCAE/Pardot) helps to acquire, qualify, and convert prospects into customers. Everything starts with an unidentified visitor, and once a visitor provides an email address, Pardot creates a prospect. It then creates opportunities and track the customer journey.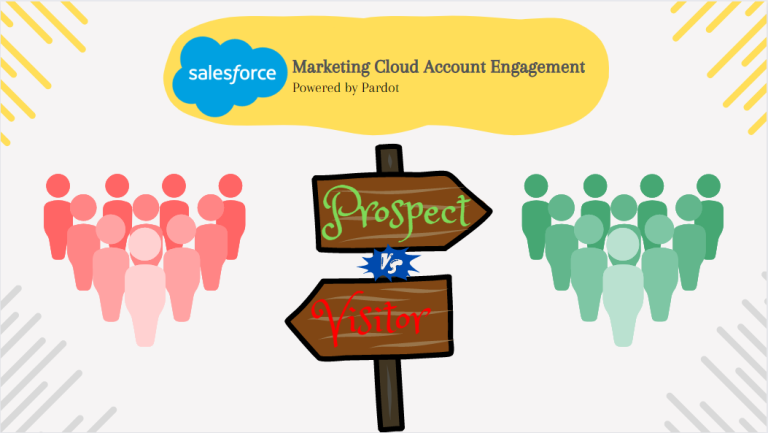 Marketing Cloud Account Engagement
Visitors:
A visitor is a person who visited a page with the MCAE tracking code on it but hasn't converted to a prospect yet. The website uses cookies to record the visitors' data in the database and recognize them when they visit the website next time.
The most common ways an anonymous visitor becomes a prospect are listed below.
Submits a form:
On the web page in an iframe
On the site that's connected to a MCAE form handler
On a MCAE landing page
Is manually associated with a prospect
The Visitors report displays the captured website sessions of anonymous visitors and filters sessions based on page views, campaign, and date range. Pardot stores an unlimited amount of detailed web data for prospects and a year's worth of data for anonymous visitors.
You can filter the visitors using one of the following views.
Identified Visitors – It will list all visitors with identified companies.
Active Visitors – It will list all visitors who visited two or more pages, irrespective of their organizations identified.
All Visitors – It will display all visitor sessions.
Marketing Cloud Account Engagement
Prospects:
Prospects in MCAE are those people who have a valid email address in the database. Most prospects are associated with their visitor activity when they convert, but you can manually associate a visitor with a prospect.
A prospect's email address is a unique identifier and provides MCAE with valuable insights into their customer journey moving forward. Some activities include:
Email send
Email open
Email bounce
Opportunity
Once a visitor's first visit to MCAE's tracking code occurs, you can calculate the value of their referrer by taking the referring URL for that visitor and adding it to the data in MCAE. It pulls in source data when the referring URL matches the expected URL of a vendor you have entered in your MCAE account.
How to create a prospect in Marketing Cloud Account Engagement database?
There are various ways to create a prospect in MCAE database:
                To create a prospect manually in MCAE, go to the Prospects page–> Click "+Add Prospect" and enter the prospect details (such as Email, campaign name, Profile type, MCAE score, etc.). Click Save.
                The next option to create a prospect is via CSV file import. Ensure to include the Salesforce lead or contact ID if you are importing a list from Salesforce.
Know more about "Steps to Import MCAE prospects".
                Pardot will automatically register the visitors who fill out forms or submit fields on your website with their email addresses as prospects. Example for a visitor to fill out a form includes Download a whitepaper, Demo request, "Contact us" form, Subscribe to a newsletter, etc.
                Sync your prospects with your MCAE account by syncing them through Salesforce CRM. It will save time and make the contacts available automatically in the database.
To let a prospect's account transfer to another MCAE user, sync the prospect record to Salesforce. You can assign the prospects manually or use automation rules and completion actions to assign them automatically to the rep based on activity.
Marketing Cloud Account Engagement will delete a prospect and move it to the recycle bin. Deleting a prospect from MCAE does not delete the record sync with Salesforce, but it can alter what's shown in reports and have other implications.
Restore a deleted prospect
You can restore a deleted prospect by clicking on the Undelete button. During the data import process, if you want to undelete a prospect record with a matching CRM ID or email address, select Undelete matching prospects in the recycle bin.
Marketing Cloud Account Engagement (Pardot) uses cookies to track visitor and prospect activity on the website and landing pages. Cookies remember the visitor's preferences when they visit the site. Signing up with an email address is one important way to do that.
Get our latest blogs directly to your inbox.