Pardot Sandbox is an essential feature in every Pardot Admin's work. It allows you to test for bugs and, as a result, prevent negative consequences for your campaign efforts in the live environment.
Pardot sandbox is a helpful tool for marketers and sales professionals to experiment with new ideas without risking their actual data. It's also a platform for newbies to play around and learn the tool.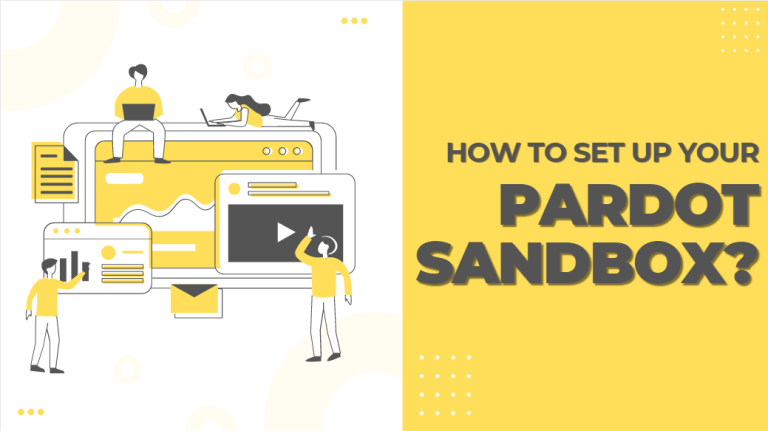 What are
Pardot Sandboxes?
Pardot sandboxes are isolated test versions of a Pardot Business Unit provisioned in a Salesforce sandbox. You can add new features and see how they work without risking anything going wrong or disrupting your business operations.
How is Pardot Sandbox different from a
Salesforce Sandbox?
Salesforce Sandbox is a copy of your current Salesforce tool. It allows you to create and test new changes. These changes can be pushed back into production at any time. Salesforce sandboxes come in various forms and only one of these is Pardot.
A Pardot Sandbox is a Pardot Business Unit provisioned from a Salesforce Full Sandbox. This means you get to work with a fully functional Pardot org, within which to build out new automation and test using the Salesforce Sandbox toolset, a replica of your Salesforce org.
Note: Changes made to your Sandbox are not automatically mirrored in your Production environment. You will have to manually recreate any changes you make in the Pardot Sandbox before deploying them.
Steps to setup your
Pardot Sandbox
Step 1: Log into your Salesforce Sandbox. Navigate to setup > Type 'sandbox' in the quick find search bar > click on "Sandboxes".
Step 2: Click 'Log In' next to the Sandbox you'd like to create a Pardot Sandbox with, and log in.

Step 3: Uninstall the B2BMA managed package and delete it.
Step 4: Install Pardot Sandbox managed package.
Step 5: Before creating a Pardot business unit, assign the Pardot Integration User permission set to the B2BMA Integration User. To do this, navigate to Set Up > Permission Sets > search for "Pardot Integration User" > click the 'Manage Assignments' button on the top and add the permission set to the integration user.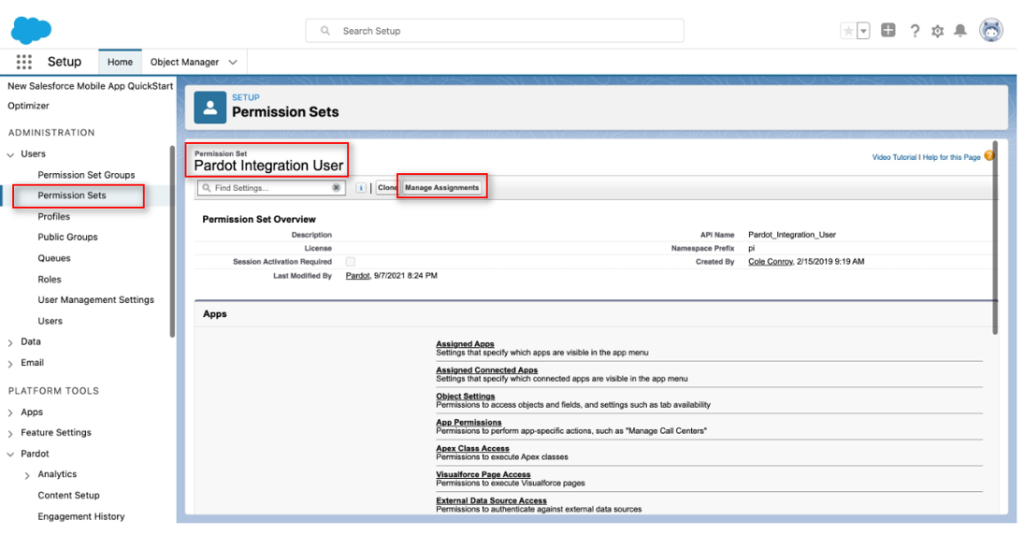 Step 6: To create your business unit, go to the Pardot App > Marketing Setup > Pardot Account Setup. Enter a name for the business unit, select an admin and save.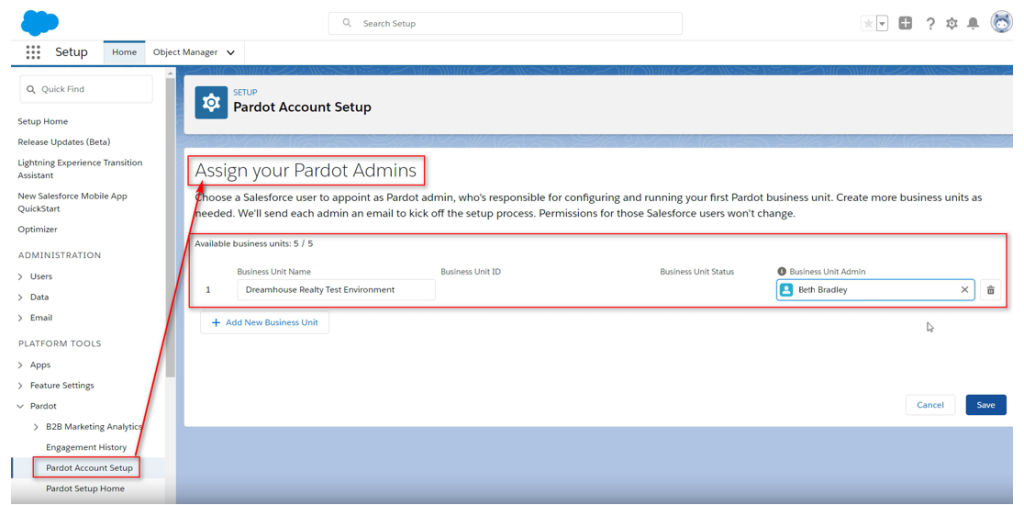 Step 7: After saving the business unit, the admin receives a welcome email to guide through the activation process. After activation, the admin gets access to choose a new admin to manage the Sandbox.
When to use a Pardot Sandboxes
Ensure to familiarize yourself with the sandbox guidelines before you start your work.
Field mapping and sync level behavior
You will need to determine that all Pardot prospect fields are mapped to Salesforce fields to ensure that the data transfer is accurate.
Enabling Salesforce User Sync with your Pardot instance will allow you to map your Salesforce profiles to Pardot roles. These roles can determine who gets access to different sets of data, depending on the user and their viewing location.
In the Salesforce and Pardot sync, the permissions and role of the connector user determine the default sync behavior. If a connector user can't see a record in Salesforce, they won't see it in Pardot. If you're using v2 of the connector, you must also consider Marketing Data Sharing rules.
Marketing Data Sharing Rules
Marketing data-sharing rules allow you to condition sync behavior on field values. For instance, you can determine which Business Unit a prospect should sit in by using a region field value. It is the reason to use Sandbox in certain circumstances because it allows you to make data alterations to contacts and leads.
Testing your Connected Campaigns or Customizing the Campaign object in Salesforce before doing it on the production, especially when it's risky to do so, is a great idea.
If you are using Selective Syncing for the Pardot-Salesforce connector, it is appreciable to do test runs in your Sandbox to ensure you have your visibility spot on.
Test out the API-led integrations of your third-party platforms without touching any production data in your Pardot account.
A Pardot Sandbox environment is a great place to test any automated data processing or integration with Salesforce. But the sync time is slower in Sandboxes.
When not to use a Pardot Sandboxes
Due to the lack of deployment tools and email capability in Pardot, it has some constraints on its usefulness. To avoid duplicating your workload, it's better to avoid using a Pardot sandbox in the following cases.
All email sending is disabled in Sandboxes, which means you can't preview or test emails at all or do anything with Engagement Studio, for example.
Einstein and B2B Marketing Analytics
Advanced features, including analytics and Engagement History Dashboards, are disabled for Sandboxes. So, you cannot preview Sandbox accounts, and it shows a limited view of what Real User Monitoring provides.
Time-sensitive process flows
Avoid using Pardot sandbox for time-sensitive process flows as sync times for Sandboxes are slow.
Things you need to know about Pardot Sandbox
Here are some important things to know about using Pardot Sandboxes:
When you refresh a Salesforce sandbox, it deletes the Pardot sandbox attached to it.
Salesforce will delete any sandbox that is inactive for 150 days. You will receive a notification if its data are scheduled to be deleted.
When setting up your testing sandbox, the activation email contains a link to login.salesforce.com – this needs to be manually changed to test.salesforce.com to ensure your sandbox login details work correctly.
Ensure your setup carefully. One thing to look out for in the sandbox is the integration permission not being turned on at the beginning. It will cause your Salesforce connector to get stuck in a verification step.
Every Pardot environment has a unique configuration, metadata, and content that you'll need to set up separately.
Get our latest blogs directly to your inbox.