Growing your business is not easy! Sometimes, you need to try different methods to help you get there. One method that can help you with this is digital marketing. But this might come as a big challenge for you. Here comes the digital marketing strategy to help you reach your business growth objectives.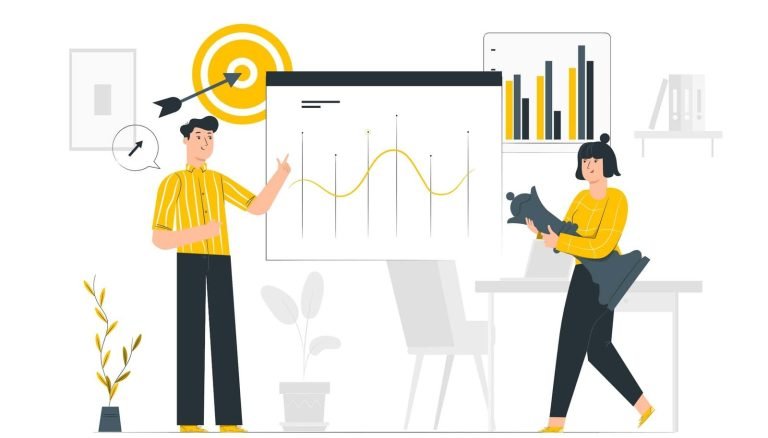 Importance of
Digital Marketing Strategy:
Running a business without a strategic digital marketing plan is like driving with no roadmap. You might get to your destination, but it would take you much longer to get there. However, Digital marketing is the key to a successful business that attracts the right audience and boosts your company's revenue in a short time.
Many people think digital marketing is only for businesses with the resources and budgets to spend on marketing campaigns. However, there are many ways where digital marketing can be helpful for small businesses' growth.
Elements of
Digital Marketing Strategy:
A digital marketing strategy is a long-term plan for your business. It's a map to success. And it also ensures you're always heading in the right direction. Moreover, your strategy is the blueprint for making money and achieving your business goals. The foundation of your marketing strategy is your marketing plan, a written document that outlines the strategies you'll use to meet your business goals. In addition, your marketing plan should always include elements of your digital marketing strategy, which are as follows:
Target market

Business goals

Strategy

Action plan 

Budget  

Risk management

Resources

Measurement

Action items
Creating a
Digital Marketing Strategy:
With the right digital marketing strategy, you can create a successful business you will be happy to work with. However, designing your marketing strategy is not an easy task. And it requires hard work, preparation, and knowledge of this specific field.
There are a set of steps that you can take to create a successful digital marketing strategy.
Define your goals.

Decide on a marketing strategy.

Develop a digital marketing plan.

Execute your digital marketing plan.

Measure how successful your strategy was.

Adjust your strategy.
Planning a
Digital Marketing Strategy:
First, to plan your digital marketing strategies, you must figure out your goal. Do you want to increase your sales, brand awareness, or SEO?
Next, you need to identify the best strategy to reach that goal. To do this, you must first understand your website's buyer persona.
Which social media platform do they invest most of their time on?

What are they looking for when they are on the web?

What is the best time to post to reach this audience?
Finally, with these questions answered, you can then draft your strategy.
Tools to create a
Strategy:
If you are looking for tools to create a digital marketing strategy, you should know that you do not need to buy expensive software. Mostly, it is enough to use free tools to build a strategy to know in advance what your online marketing plan will look like in the future.
You can use the following tools to create a digital marketing strategy.
Bitrix24

is an integrated social network, project management, customer relationship management (CRM), e-commerce, and collaboration system. In addition, it has a free version with up to 3 users.

SocialPilot 

is a social media scheduling and marketing automation tool. It's not free, but it is worth the money.

Google Analytics

 is a tool that provides users with information about their website's traffic. It's free to use.

HubSpot

 is a marketing automation platform that helps businesses find, convert, and close customers. It's not free, but it is worth the money.
If you've ever wondered how to measure success in digital marketing, then wonder no more.
First, to measure the success of your digital marketing strategy, you need to set up some trackable metrics. Next, you can evaluate how your marketing activities are contributing to these metrics.
Successful measurement makes it easy to tell what's working and what's not. It's hard to see how marketing activity contributes to overall success, but when you track the effectiveness of each work, you get a clear picture of your marketing impact.
Digital Marketing Strategy is a crucial aspect of growing a successful business by reaching out to customers. In the end, having a digital marketing strategy in place is the best way to ensure your business reaches its full potential.
Looking to grow your business through an effective digital marketing strategy?
Look no further! Marmato Digital is your trusted partner in navigating the digital landscape. Our expert team is equipped to guide you step-by-step, from crafting a tailored digital marketing plan to executing it with precision. Moreover, with our cutting-edge techniques, we'll help you achieve remarkable results and propel your business to new heights. Don't miss out on the opportunity to harness the power of digital marketing. Contact Us today!
Get our latest blogs directly to your inbox.